DETAILS
C purlin roll forming machine C/U/E Changeable Production Line OM400
NO.
NAME OF GOODS

QUANTITY

  UNIT PRICE

TOTAL AMOUNT

1
OM Roll Forming machine
1 set
FOB XIAMEN CHINA
DELIVERY:
The machines will be ready within 120 days from receipt of down payment as well as approval of sales contract, technical scheme and profile drawing. The shipment will be made within 10 days after the seller receives the balance by T/T.
TERMS OF PAYMENT:
30% of the contract amount as down payment; the balance is to be paid by T/T before shipment. Installation charge is to be paid before installation by T/T.
INSTALLATION:
If installation will be needed, the seller will dispatch a technician to the buyer's factory to assist with 60usd/day. The buyer should assist DAHEZB to get the Chinese technician's visa and should pay for the roundtrip air ticket and the local accommodation. The Buyer should make sufficient preparation before arrival of technicians, including necessary electric wiring、labors 、sufficient material for trial running and relevant hardware tools.
WARRANTY:
12 months limited warranty starting from date of delivery, excluding wear parts. Shipping cost for parts to be replaced during warranty period have to be borne by the buyer.
Technical Plan
I.purlin specification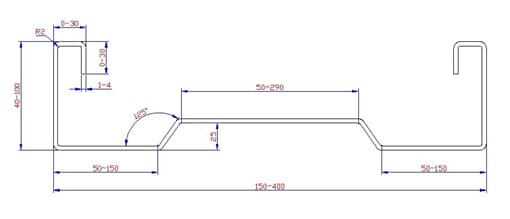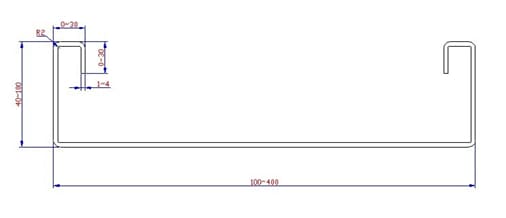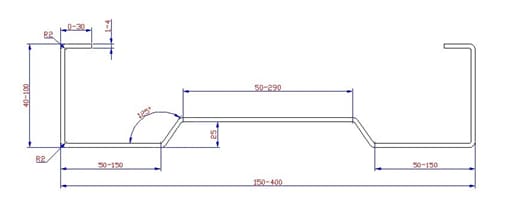 1) Material: Cold rolled coil, hot rolled coil, Deep Hot Galvanized coil
2) Thickness: 1-4mm
3) Yield strength: Q235Mpa Q300Mpa, Q345Mpa, and S350GD- Z275
4) When produce the minimum size, the minimum distance between double punch will be 60mm; when produce the maximum size, the minimum distance between punching to edge will be 60mm.
II. Machine Components
1) Hydraulic De-coiler ———————————————————————— 1 set
2) Transport Car——————————————————————————-2set
3) Separate unit flattener and punching————————————————-1 set
4) Pre-cutting—————————————————————————— —- 2set
5) Rolling Forming System—————————————————————- –1set
6) Hydraulic post- Cutting——————————————————– ———-1 set
7) Product support frame—————————————————————— 2 sets
8) PLC Control System———— ———————————————————–1 set
III.flow chart
Hydraulic De-coiler→Transport car→Separate unit flattener and punching→ Pre-cutting → Transport car→ Pre-cutting →Rolling Forming System→ PLC System→Hydraulic post-Cutting→Product Support Frame


IV. Technology parameters
The weight of theMachine : about 25 T
The total demension of machine : (length)14m x (width)1.4m x (height)1.8m
1. Hydraulic De-coiler (without coil car)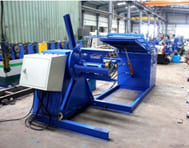 1.1 . Decoiler Type: Full-automatic decoiler
1.2 . Hydraulic de-coiler, Separate converter Mitsubishi, converter Hydraulic Press Arm with share hydraulic station+ stronger leaves 250mm
1.3 . Ruler on the main staff
1.4 . Max loading capacity 8T
1.5 . Suitable material width (max.) 800mm
1.6 . Suitable coil OD (max.) φ1400mm
1.7 . ID:500-600mm
1.8 . Hydraulic station: 4.0Kw+air cooling +coupling
1.9 .Electric condition 380V/3Phase/ 50HZ
1.10 .Four striker plate
1.11 .With the sense press arm(start- stop arm)
2. Transport car
Electric push button to movie under the material and a side.
Length: about 2.5m
3. Combine machine: Separate unit flattener and punching( two in one )with Servo feeding motor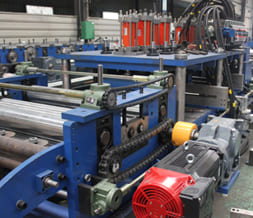 3.1. Separate unit flattener:
3.1.1. With the sense press (start-stop)
3.1.2. Weight: 5000Kg
3.1.3. Structure features: quenched and tempered leveling rollers, chrome plated treatment the rigidity, surface roughness and other mechanical properties is greatly increased; Its consist of feeding rollers and leveling rollers. The feeding rollers can be adjusted separately. Leveling roller adopts integral structure, there are two adjustment device at previous and behind. It can form angle of inclination to improve the quality of leveling device. At the feeding side, there is a pair of guiding rollers and two pairs of vertical rollers. Leveling machine has leading material device at previous and behind. There is photoelectric signal between Leveling machine and feeding device, and then feedback into PLC control panel, PLC releases instructions to frequency conversion motor speed to control the storage of the raw materials in the loading zone, leveling continually.
3.1.4 .The guiding rollers move simultaneously with the forming part by PLC. The thickness of leveling part levels up by press button. There is two digital monitor between the guiding rollers.
3.1.5 .It will add one roller to press the material before running into flattener device with button.
3.2 Servo feeding machine
3.2.1. Weight: 100Kg
 Feeding and Leveling Device: It used for making the material flat before feeding into the roll forming machine. 7 rollers.
3.2.2 .Servo motor: 7.5KW
3.2.3 .Feeding material and control punching press (Auto-induction)
3.3 .Separate unit hydraulic punching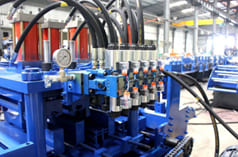 3.3.1 .Punching Tolerance: ±2mm (not accumulation)
3.3.2 .Each punching equipped with a material guiding, die move independently, each die
Equipped with the synchronous gear to ensure the stability, improve the service life of punch.
3.3.3.The base mould and punch and cover can exchange; Sheath can be turned for change different shape punching bar.
3.3.4. Independent hydraulic station: 11KW air cooling +coupling Accumulator
3.3.5. Adopt welded steel frame, it has great rigidity.
3.3.6 .Each punching equips digital monitor, and the horizontal punch distance is manual. The distance between punching positions are to be adjusted by inputting parameters into the computer.
3.3.7 .Punching die material: Cr12
3.3.8 .punching will be 5 double sets and 1single punching(the single punch max size should be within dia 50mm)



3.3.10. punching bars size and quantity: (total 30sets)
3.4 Hydraulic pre-cutting
3.4.1 .Flat head and tail.
3.4.2 .Automatic detection of residual material length whether meets the set length
3.5. Press sense arm (start-stop)
4. Transport car
Electric push button to movie under the material and a side
Length: About 5m
5. Rolling Forming System
5.1 .Feeding table, three rollers with chroming, also equips the sense press arm.
5.2 .Pre-cutting
5.3 .main motor type: frequency motor
5.4 .motor power:30 KW
5.5 .Drive: Double Chain, each chain requires tensioning wheel device
5.6 .speed of forming: 12-15m/min(Exclude cutting time, profile 6m, 10 punching )
5.7 .material of roller : Cr12
5.8 .Motors for width adjusting: 2.25KW
5.9 .Groups rollers: about 24 stations
5.10 .material of main shaft : 40Cr (The main shaft have the high frequency grinding &heat Treatment and the surface of shaft is chroming
5.11 .diameter of main shaft: ø80mm-90mm
6. Hydraulic Post- Cutting
6.1 .Cutting type: Hydraulic cutting for C profile
6.2 .Cutting material: Cr12MoV
6.3 .Hydraulic motor power:5.5KW+ air cooling +coupling
6.4 .Hydraulic Pressure: 16Mpa
6.5 .When producing the Σ purlin, the post cutting could level up and make the prulin go through.
7. Control System (Laptop+ control panel)
7.1 .Change the profile on the laptop
7.2 .Change size: full-automatic( also contain semi-automatic and manual )
7.3 .Control the quantity &punching length& cutting length automatically
7.4 .Voltage: 380V3 Phase 50Hz
7.5 .Size of Control Board(700mm(L)x2000mm(H)x500mm(W)
7.6 .Solenoid valve: Beijing hade
7.7 .Oilhydrauliccylinder: taiwei
7.8 .Oil pipeline: parkers
7.9 .Encoder : Omron
7.10 2 emergency stop buttons,one on the punch part the other one on the end of the machine.
8. Product support frame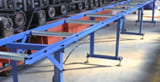 8.1 .The length of product support frame: 2*6m, width arm.
9. Protection cover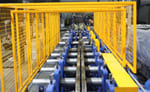 10. CE certification
With delivery document, the seller must provide the CE certification for the buyer.