DETAILS
This production line can produce cable tray. Different specifications can be completed by replacing the die. The roll bending machine adopts the combination adjustable type. One set of rollers can complete all specifications of cable bridge products. The specification change can be completed by adjusting the forming machine gear opening and rollers.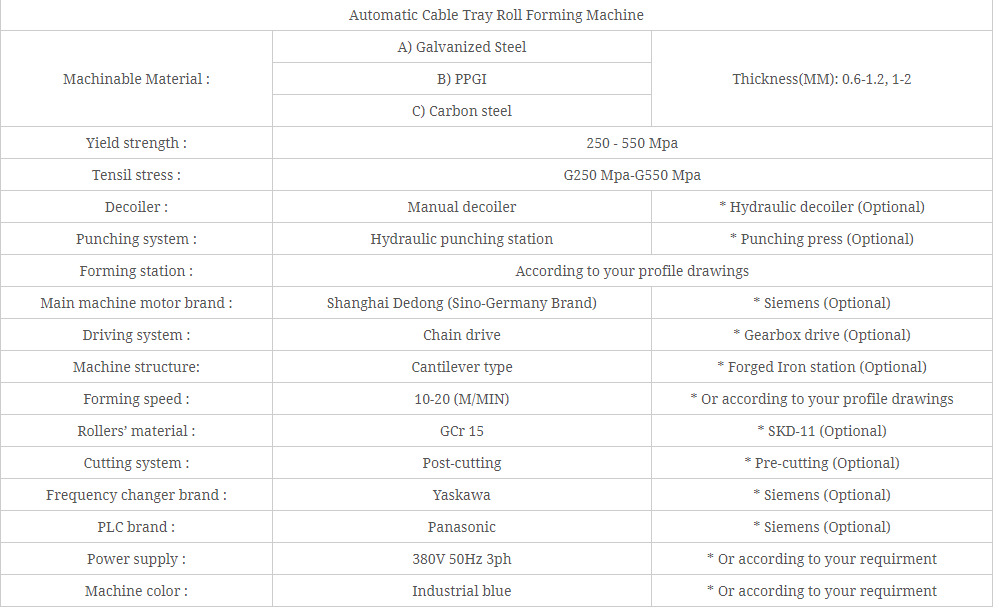 Equipment performance:
According to production needs, cable tray with strip steel width of 100mm ≤ § ≤ 860mm can be rolled.
Production speed during online punching: 2.5-5 meters/minute.
Continuous molding speed of the molding equipment: 10-25 meters/minute.
Plate material thickness: 1-2.5mm.
Material requirements: low-carbon steel, galvanized strip steel coil.
The production line is divided into two operation modes: automatic and manual, which can achieve linkage and segmented operation. The equipment mainly consists of a complete set of components, including an uncoiler, a leveling machine, a servo feeding device, a punch, a die, a guide frame, a forming host, a fixed length cutting machine, a material receiving table, and electrical control.